THE ORIGINAL FORMULA FOR FAST IS BACK
In 1951, the Jaguar C-type became the first of our marque to win the hallowed Le Mans 24-hour race, breaking every speed and distance record in the process. And on its first attempt. In 2021, 70 years since its breathtaking beauty and brawn burst onto the world's racetracks, we restart production on a strictly limited run of the ultimate 1953 disc-brake specification. Not just for the showroom, these new hand-built C-type models will allow discerning owners to get behind the wheel for Jaguar Classic Challenge racing, track and closed-road use.
INSPIRED BY XK120 PERFORMANCE
Encouraged by the road racing results of the sleek, 120 mph Jaguar XK120 in 1950, chief engineer, William Heynes sanctioned a dedicated competition model in the form of the XK120C, now known around the world as the C-type.
CRAFTING WINNING CURVES
Designed, developed and tested in just half a year, the stunning undulating body style of the C-type was informed by the experiences of its designer and aerodynamicist, Malcolm Sayer.

After serving in the manufacturing division of Bristol Aeroplane Company during the Second World War, Sayer established an Engineering Faculty at Baghdad University in 1948. There he learned some of the key design principles that would later assist in creating the wind-cheating curves of the C-type.
24-HOUR SUCCESS
With their fluid aerodynamic bodies, reduced weight and increased power over the standard XK120, the first C-type models were ready in the spring of 1951. Success was instant.

Of the three examples entered almost immediately into Le Mans, Peter Walker and Peter Whitehead's car won the race with an imposing nine-lap lead, while second-car driver Stirling Moss broke the lap record by an impressive six seconds.
PIONEERING DISC-BRAKE TECHNOLOGY
Despite instant success at Le Mans with the drum brake-equipped 1951 C-type, a braking system more resistant to fade was clearly required for racing at increased speed and distance. During the winter months of 1951 and 1952, pioneering disc brake development with Dunlop began in earnest.

On June 29, 1952 Stirling Moss drove the C-type to victory at Reims, at an average speed of 98.18 mph. This was the first time an international motor race had been won by a car fitted with disc brakes. Enhanced by Dunlop's critical development of pads thick enough to last the entire 24-hour race, and paired with a revised lighter body, the C-type was ready for Le Mans 1953.
LE MANS 1953. LIGHTER, FASTER, STRONGER.
THE CHEQUERED FLAG
Taking on the might of Ferrari and Alfa Romeo, the Jaguar Racing C-type established itself as a truly formidable force, claiming the Le Mans crown for the second time with a 1st, 2nd and 4th finish.
THE HISTORY MAKERS
Covering over 2,500 miles at an average speed of 105.85 mph, Duncan Hamilton and Tony Rolt's race winning C-type smashed the previous 1952 record of 96.7 mph. In doing so, they became the first winners to take the title with an average speed of more than 100 mph.
THE EXPERT DRIVERS
Behind Duncan Hamilton and Tony Rolt's victorious car 18, Stirling Moss and Peter Walker took second in car 17. Fourth place was secured by Peter Whitehead and Ian Stewart in car 19.
THE ROYAL APPROVAL
The second Le Mans triumph achieved in the C-type turned heads in the highest of places. A telegram from Her Majesty the Queen arrived at the Jaguar Coventry Headquarters upon the team's return.
THE LEGEND CONTINUES
Seven decades on, each new C-type Continuation will reflect the 1953 Le Mans-winning works team car specification, including a 3.4-liter straight-six engine with triple Weber 40DCO3 carburetors for 220 bhp, and disc brakes.

Aligning 3D Computer Aided Design (CAD) with engineering drawings and company records created by the original C-type development team, our specialists at Jaguar Classic are able to craft hand-built continuations with absolute authenticity.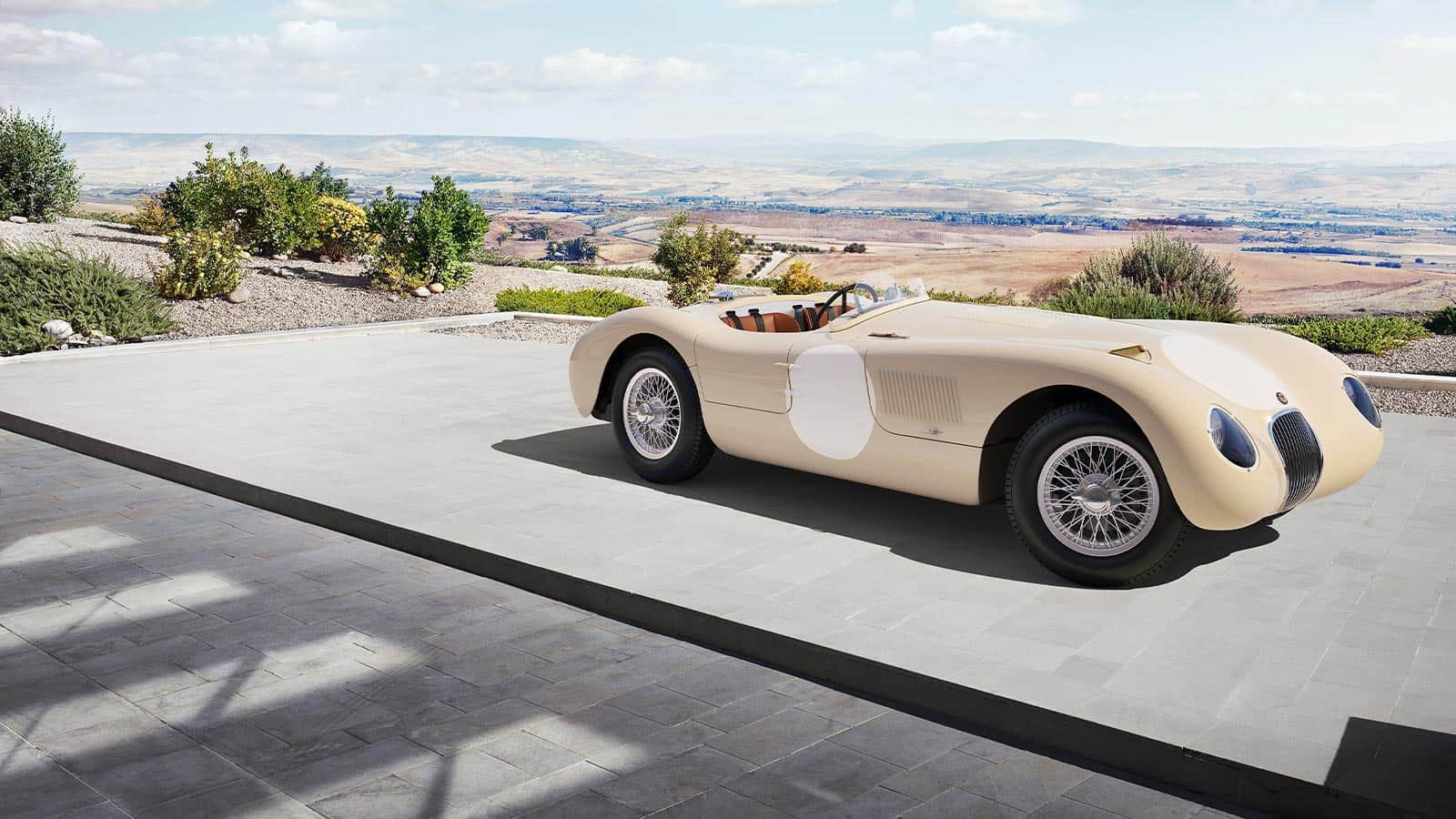 YOUR DREAM JAGUAR C-TYPE
Use our digital configurator to realize your perfect vision of a C-type with a choice of exterior heritage colors, interior trim, steering wheel, Jaguar badging and optional race roundel packs.
TALK TO JAGUAR CLASSIC
If you would like to discuss the purchase of a strictly limited-edition C-type Continuation in more detail, please contact our dedicated corporate Jaguar Classic Team at:
+44(0) 7795 887 227
The Jaguar Classic C-type Continuation vehicle is designed and intended for use in professional racing events and closed course only; not permitted for use on public highways and roads.