When it comes to charging your Jaguar, life couldn't be simpler. Here's everything you need to know about getting the power to go electric every day.
CHARGING CONNECTORS
To connect to a charging point, your electric Jaguar uses a Combined Charging System (CCS). This is compatible with slower AC charging speeds, and on selected models, rapid DC charging speeds. Some other car manufacturers use different systems for charging such as chademo. These are less-widely used across the charging network and are incompatible with the electric Jaguar.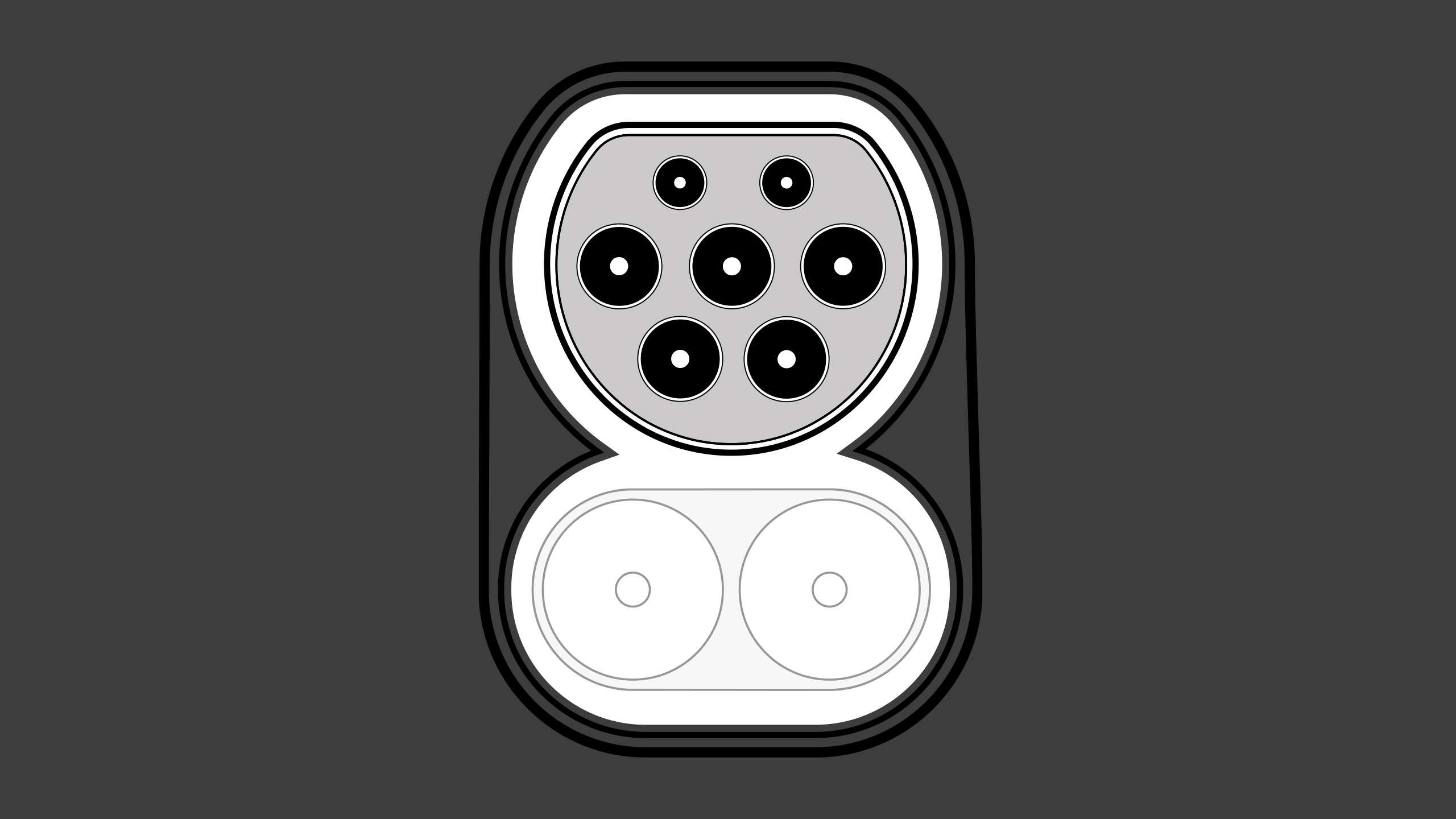 AC CHARGING
The top part of your vehicle's CCS inlet is used for AC charging. The connectors that fit into this are known as a Type 2 connectors and are compatible with your home charger, public AC charging points and domestic 3-pin plug sockets.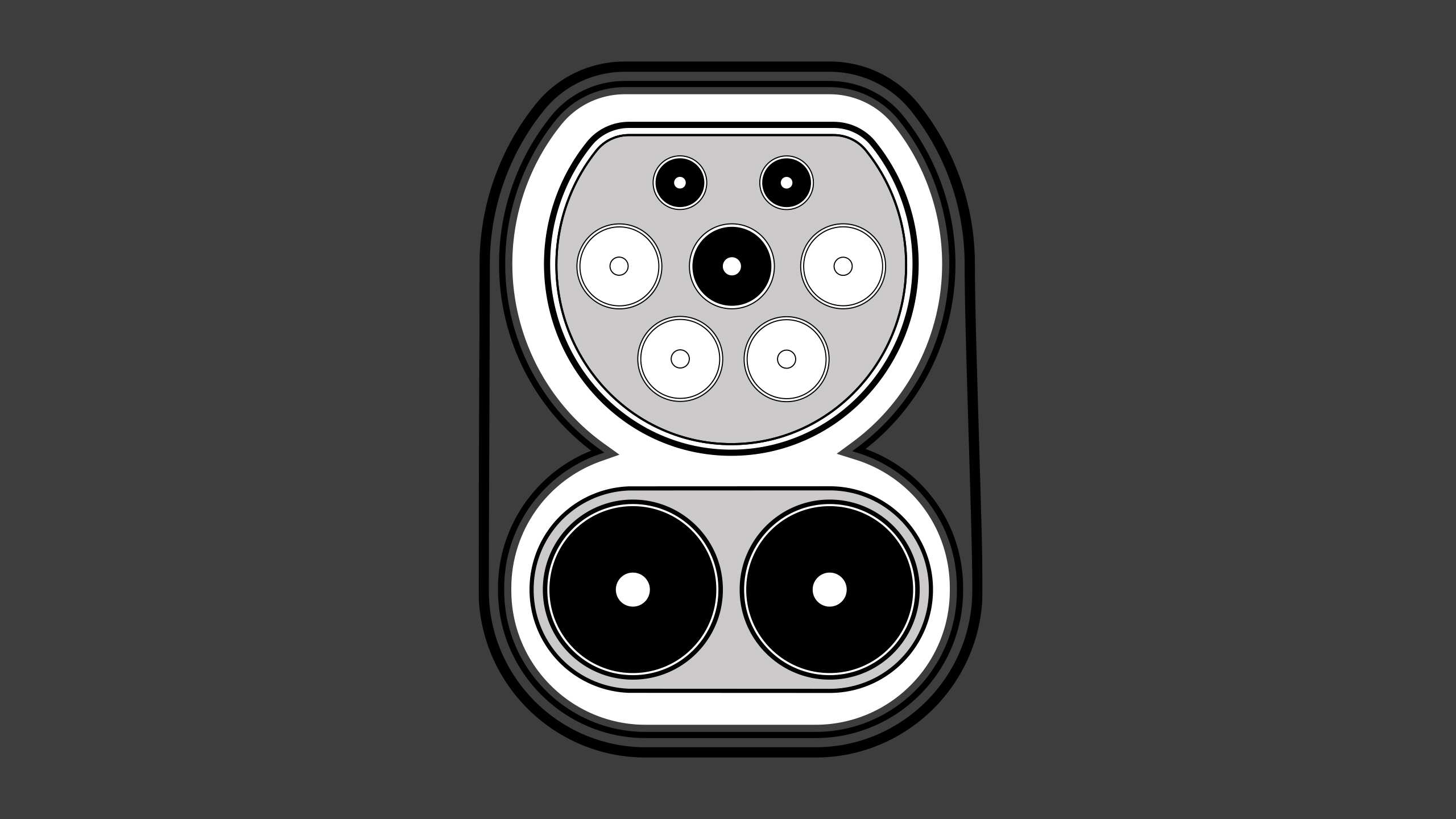 RAPID DC CHARGING
On selected models, the lower half of your vehicle's CCS inlet features two pins that combine with three of the pins above to provide rapid DC charging typically on highways and main roads. The two lower pins can be accessed by removing the lower socket cover.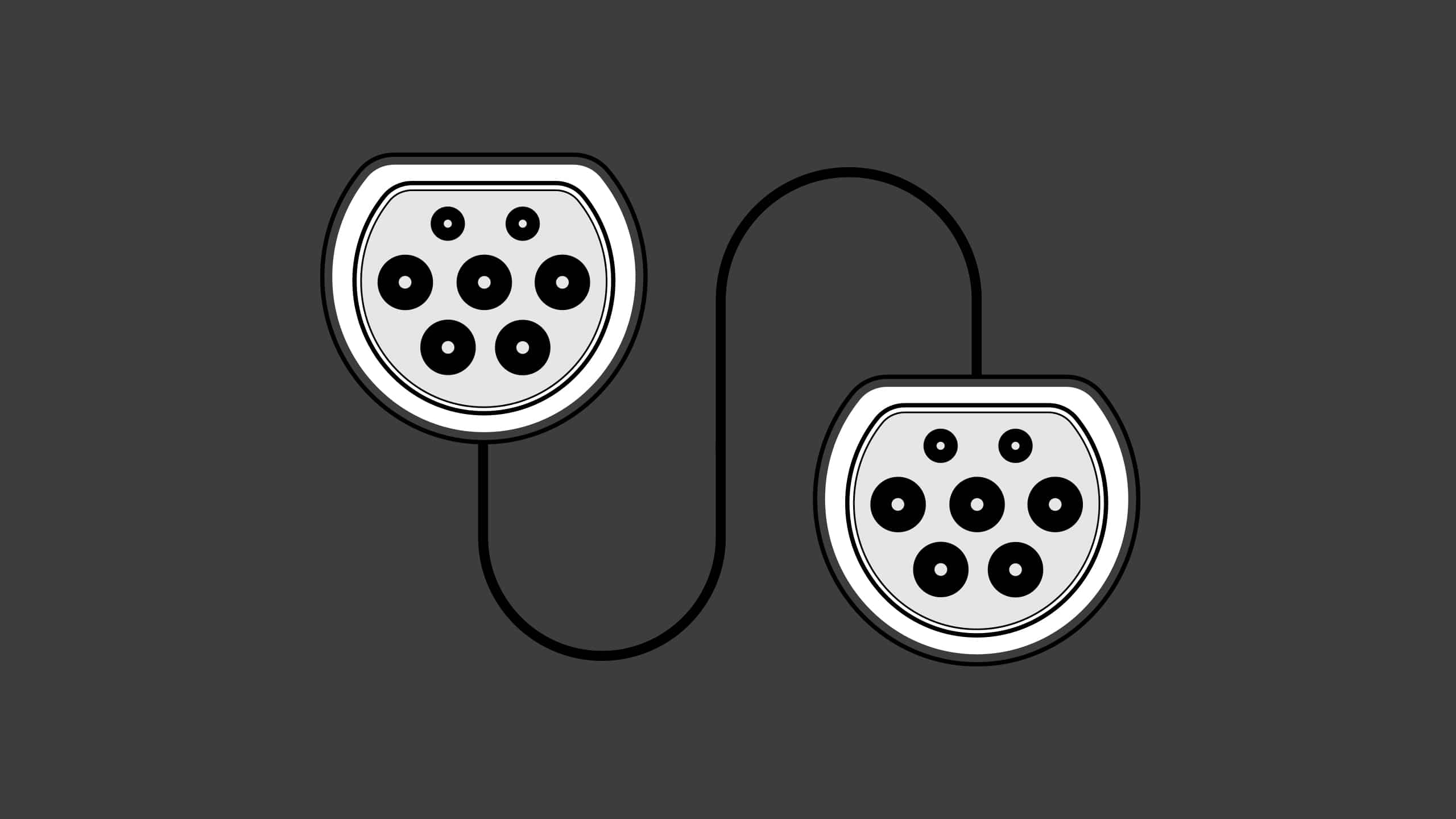 PUBLIC AND WALL BOX CHARGING CABLE (MODE 3)
A Mode 3 charging cable connects your vehicle to home chargers (wall box) and public AC charging points. It features a Type 2 connector at both ends and measures five meters in length.
Mode 3 charging cables are included with your Jaguar.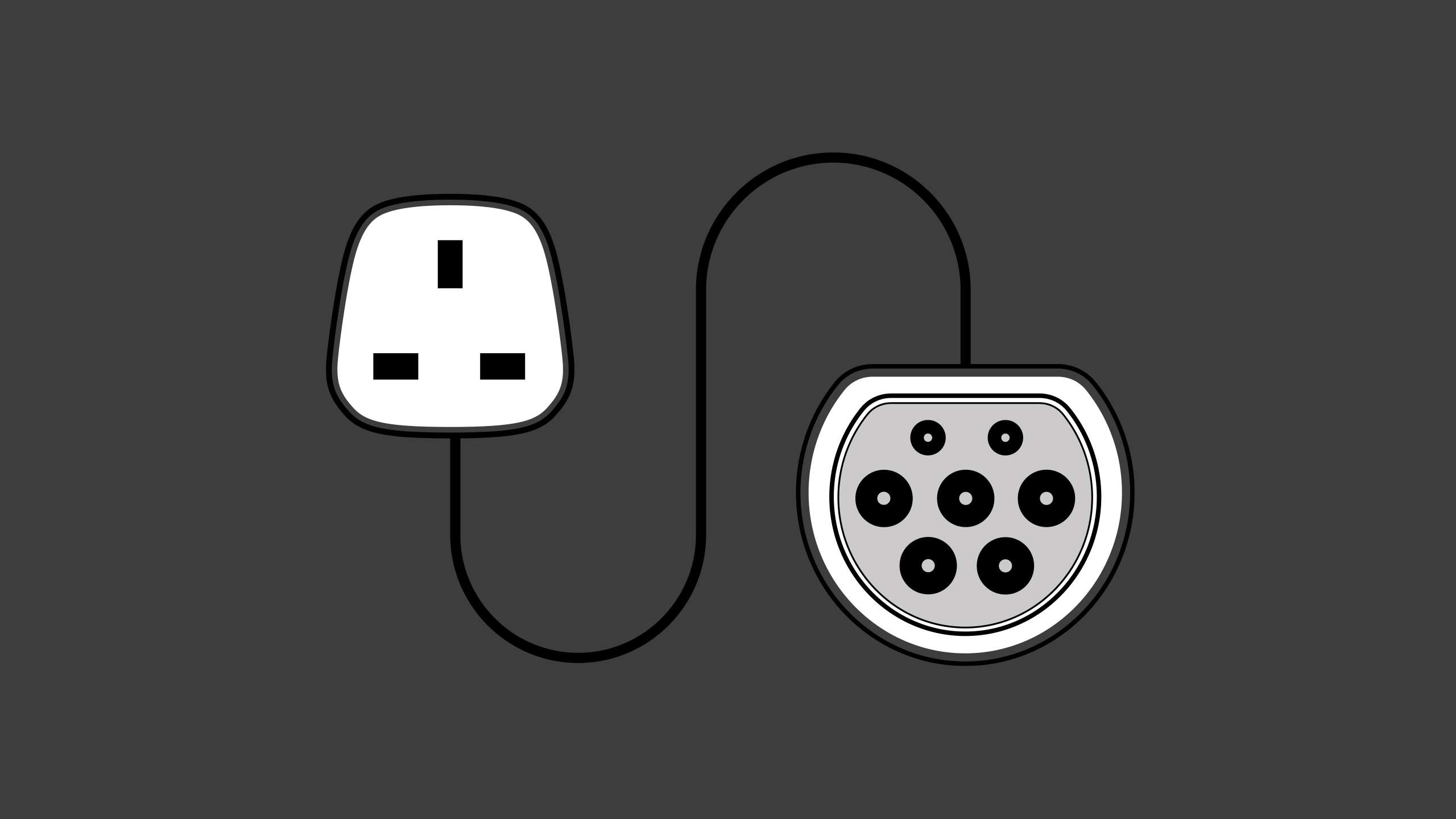 DOMESTIC PLUG CHARGING CABLE (MODE 2)
The Mode 2 charging cable connects your vehicle to domestic sockets using a Type 2 connector on one end and a plug on the other. Mode 2 cables measure five meters in length.
Optional Mode 2 charging cables are not included with your Jaguar and can be purchased separately.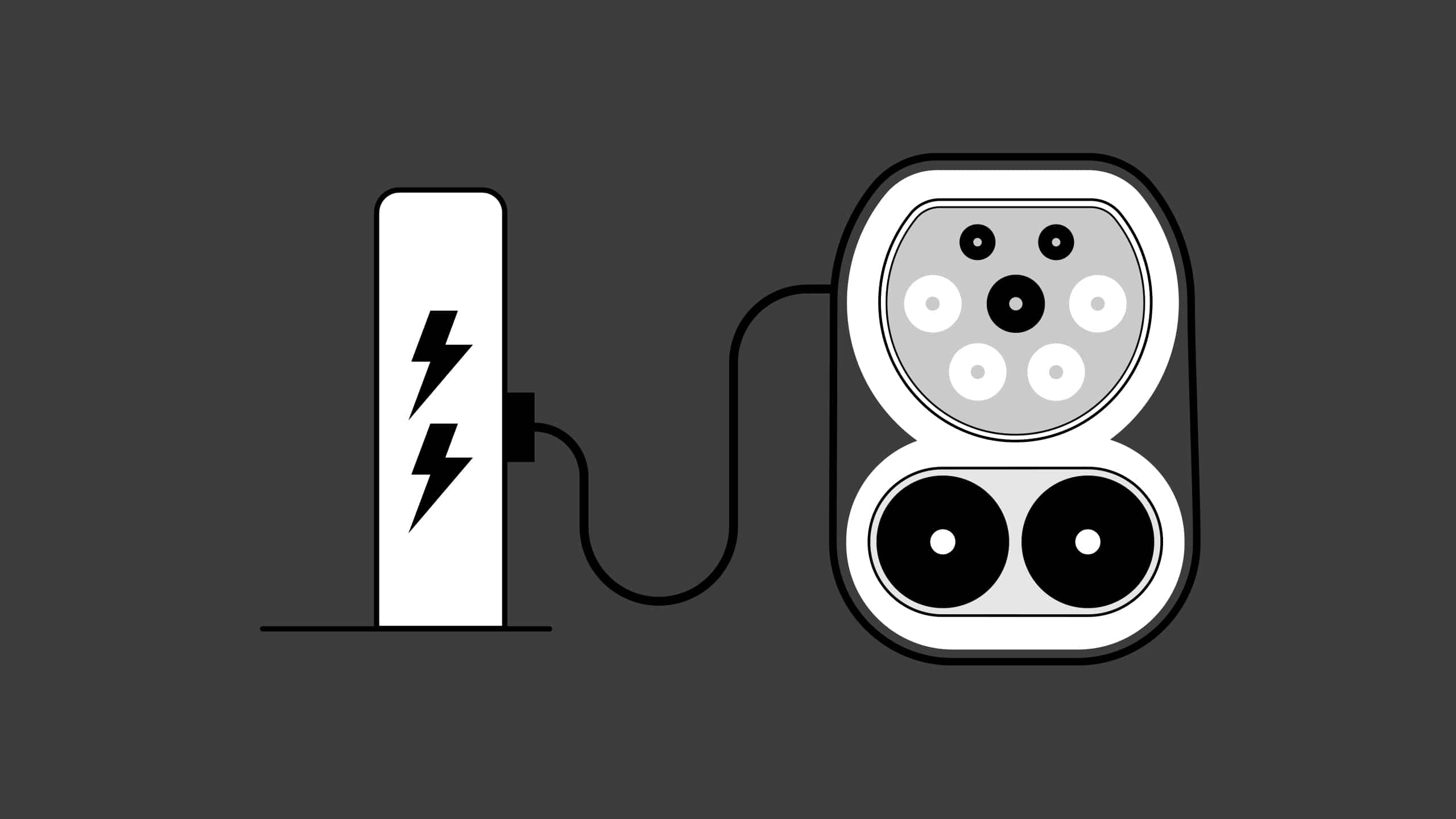 TETHERED RAPID DC CHARGING CABLE
A Rapid DC charging cable is always attached to public charging points on highways and main roads, so there's no need to use your own cable.
RECOMMENDED SMARTPHONE APPS
You have instant access to the key controls and features of your vehicle any time you need them with our Jaguar iGuide and Jaguar Remote apps1.
GET SMART WITH YOUR HOME CHARGING
Beyond the convenience and cost-savings of your professionally installed home charger, there are some smart ways to enhance your electric experience every day.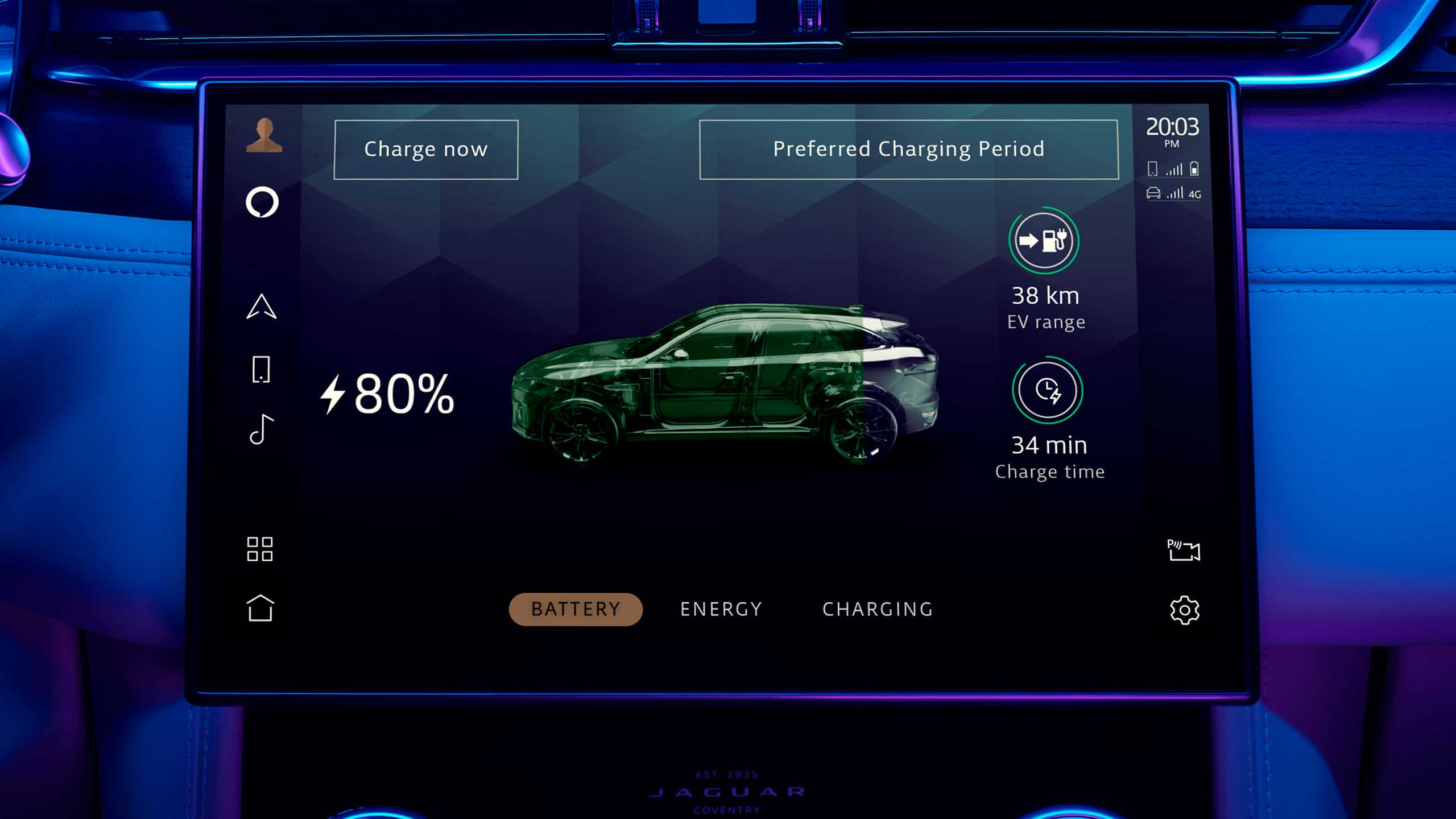 SWITCH TO OFF-PEAK AND RENEWABLE ENERGY
Specifically designed for owners of electric vehicles, EV tariffs typically offer a lower price for off-peak electricity used at night. This means you're able to charge your vehicle at home in the most affordable and convenient way possible.
And with renewable electricity now offered by many providers, it's more sustainable than ever too.
European model shown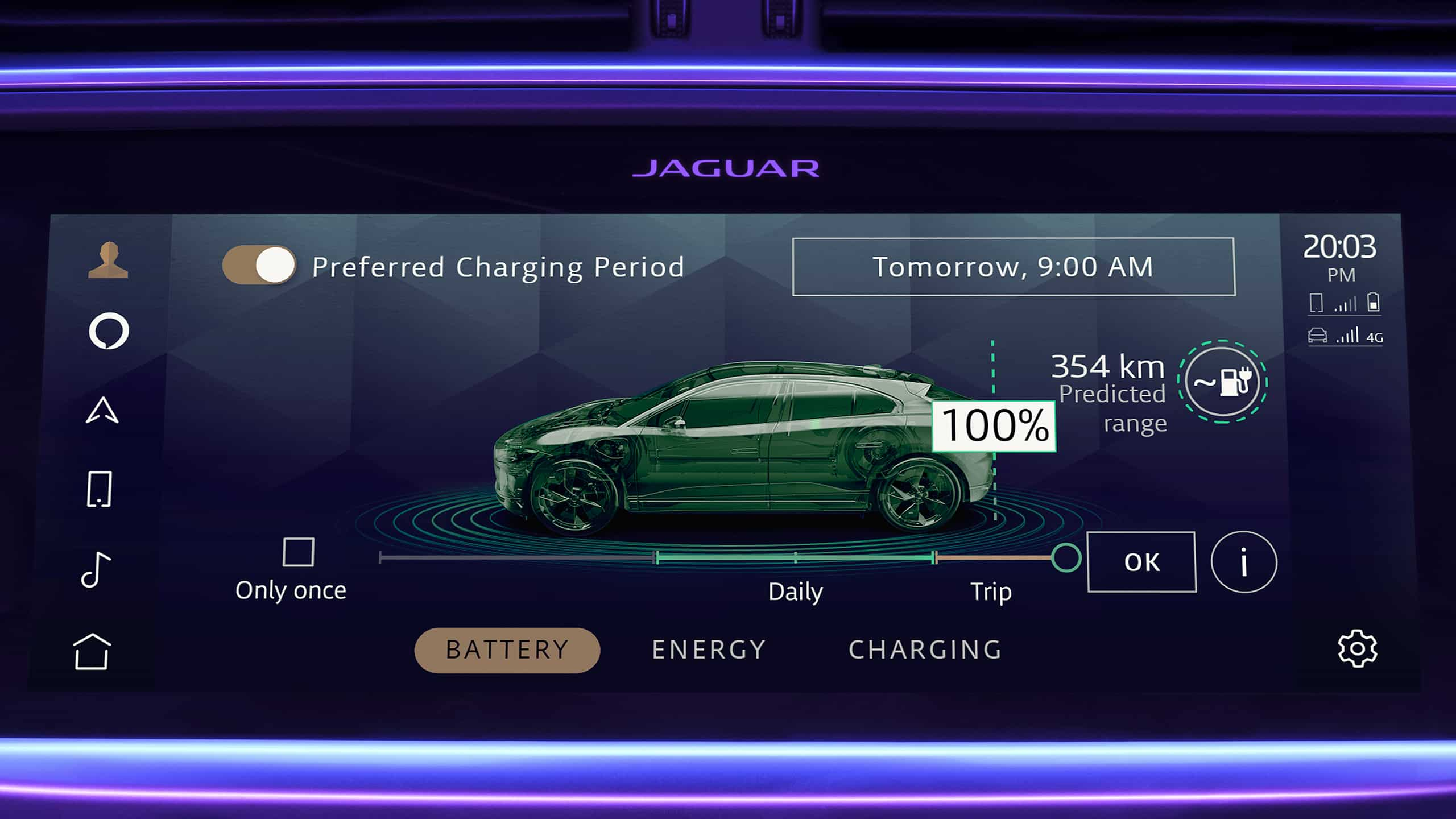 SCHEDULE YOUR CHARGE TIMES
Plugging in overnight will keep your charging routine simple and help you benefit from the substantially cheaper EV tariffs offered by many home energy providers. Using your vehicle's 'preferred charging period' function means you'll never miss this cheaper window of off-peak electricity.
To set up your preferred charging period, download the iGuide app1 below and search 'vehicle charging'.
European model shown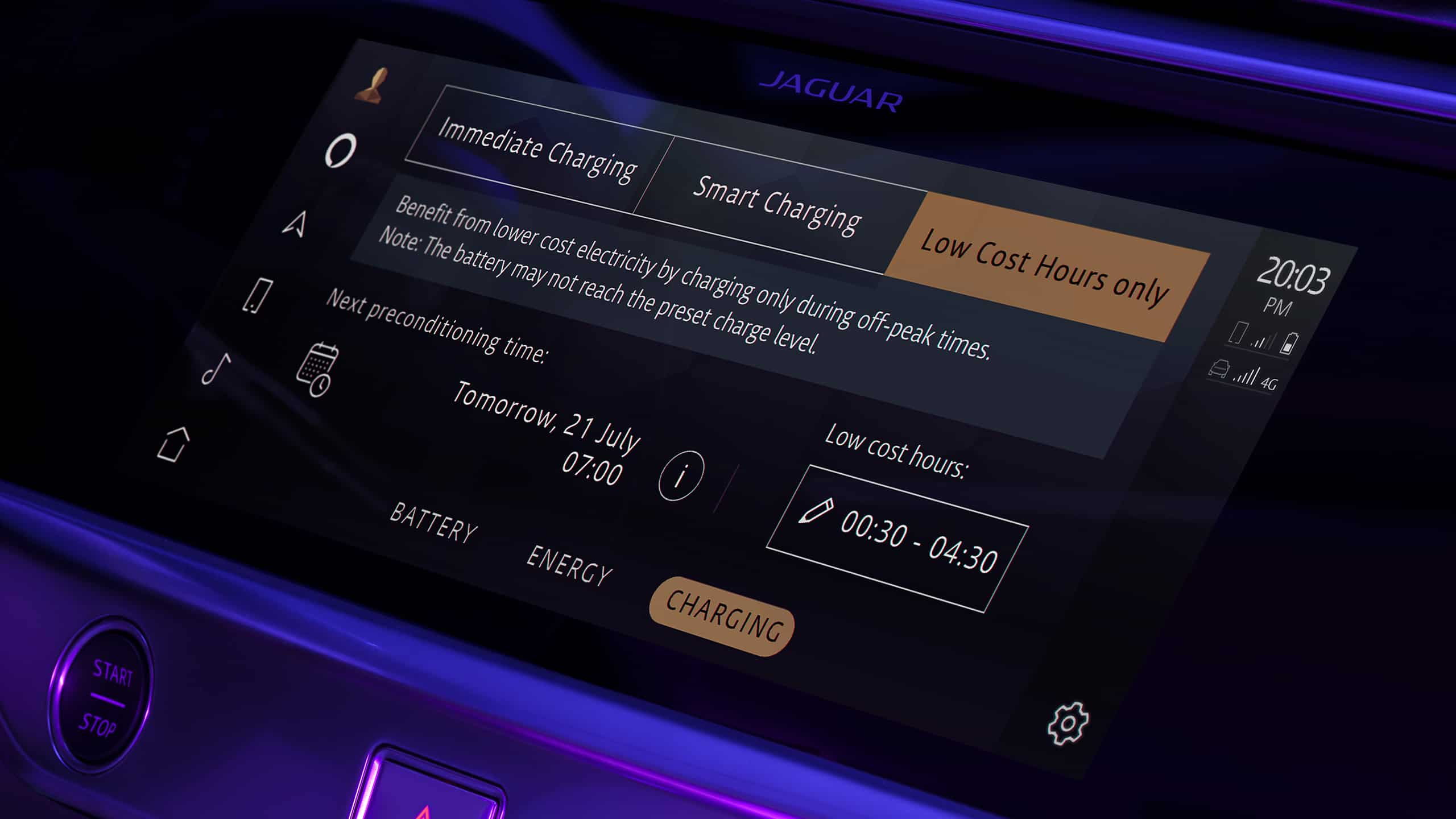 MAXIMIZE YOUR RANGE WITH PRECONDITIONING
Preconditioning allows you to heat or cool your cabin and battery while your Jaguar is plugged in. This uses energy from the mains and preserves the energy in the battery to maximize driving range.
To set up preconditioning, download the iGuide app1 below and search 'preconditioning'.
European model shown
HOME CHARGING
A professionally installed home charger is the easiest, most convenient and cost-effective way to start each day with a full charge.
European model shown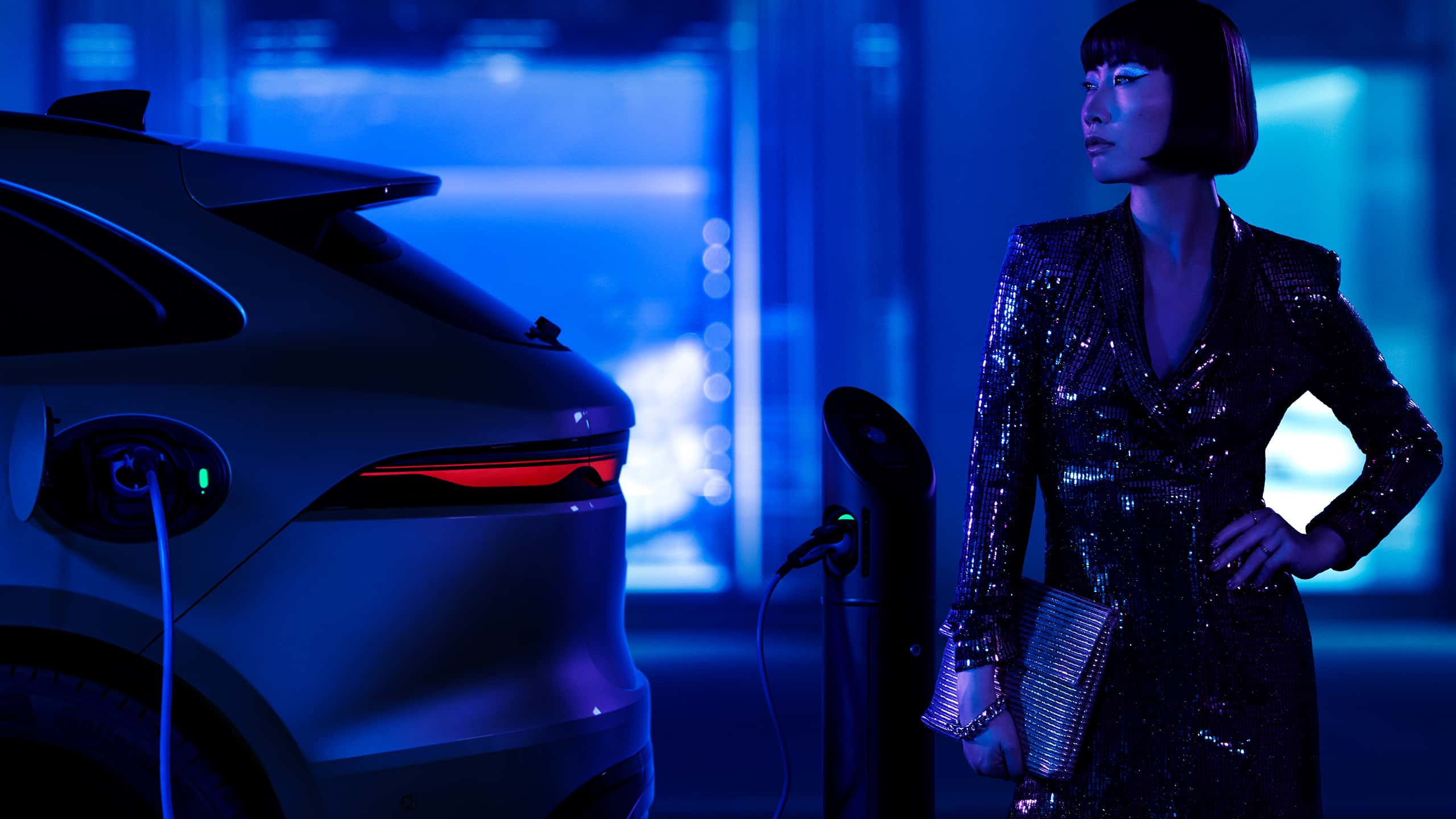 PUBLIC CHARGING
From charging times to payment methods, find out all you need to know about plugging in your Jaguar away from home.
European model shown
1Compatible smart phones only. Subject to market mobile network, signal and customer account. Requires mobile data or Wi-Fi connection.