DIESEL ENGINES AND SELECTIVE CATALYTIC REDUCTION: WHAT YOU NEED TO KNOW
We explain what emissions legislation means for our cars, our drivers and the environment.
WHAT IS EMISSIONS LEGISLATION?
Emissions legislation is aimed at making cars more environmentally friendly by limiting their exhaust emissions.
Jaguar offers engines suitable for local conditions around the world. For diesel, we offer the system known as Selective Catalytic Reduction (SCR). It helps us achieve the lowest possible emission levels while maintaining good behavior in other areas, such as refinement and fuel consumption.
To assist tailpipe emission control, the system uses an additive known as Diesel Exhaust Fluid (DEF).
WHAT IS SELECTIVE CATALYTIC REDUCTION (SCR) TECHNOLOGY?
Selective Catalytic Reduction (SCR) technology is fitted to all Jaguar diesel vehicles from the 2016 model year. It enables Jaguar to meet local emissions legislation by reducing the levels of nitrogen oxide (NOx) emitted from the exhaust system by up to 90%. In addition to a new generation of catalytic converter, SCR Technology requires the use of Diesel Exhaust Fluid (DEF).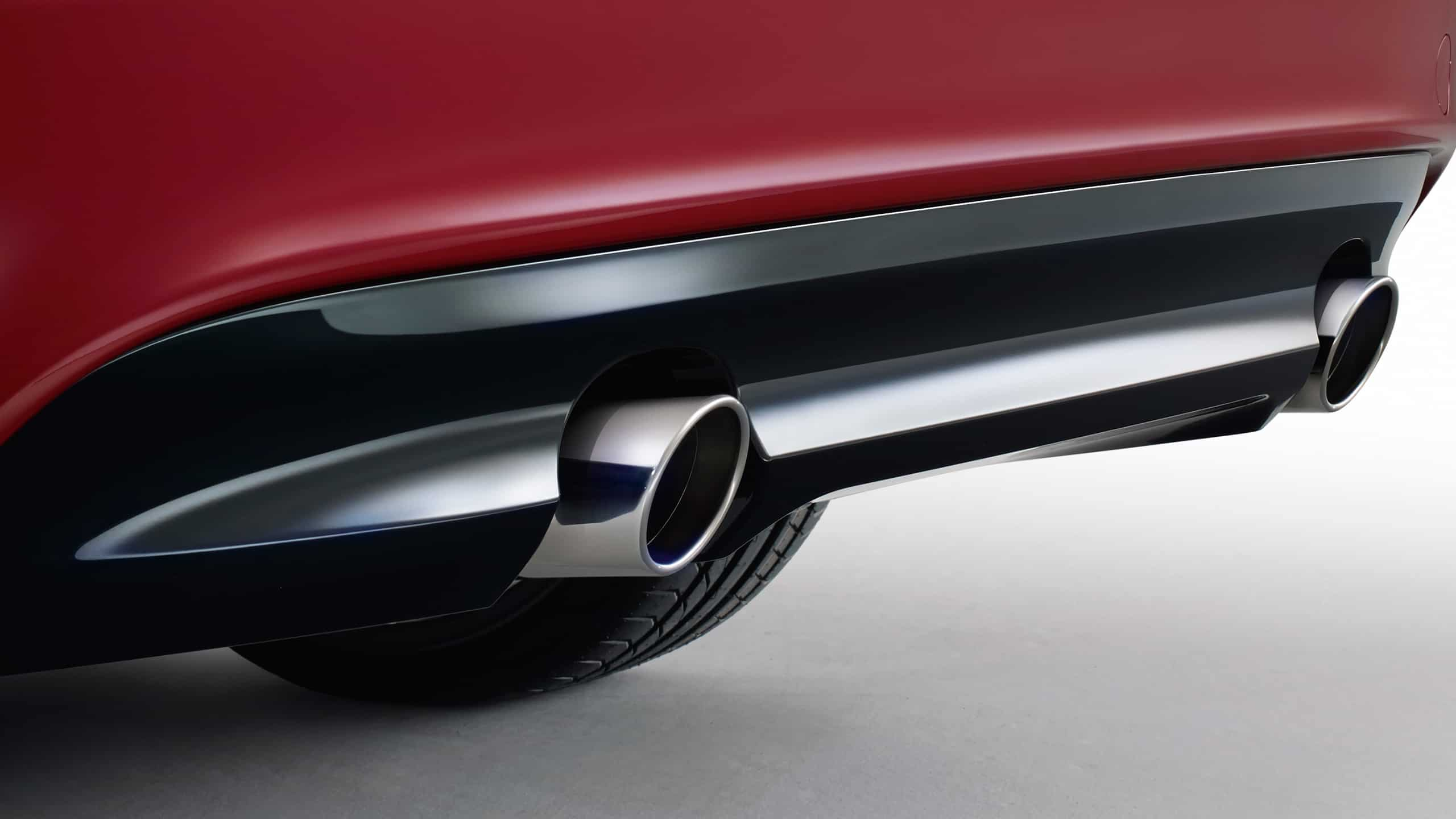 WHAT IS DIESEL EXHAUST FLUID (DEF)?
DEF, also known as AdBlue®, AUS 32 and ARLA 32, is a non-toxic, colorless, odorless and non-flammable fluid. Stored in a dedicated tank in your car, DEF is injected into the exhaust system to clean exhaust gases. It breaks down nitrogen oxide (NO(x) emissions into harmless water vapor and nitrogen gas.
MAINTAINING DEF
It's important that your Jaguar vehicle's supply of DEF is maintained, as government regulations prohibit you starting the engine without it. Your car's message center will give you advance warning when your DEF level is low and will alert you in plenty of time to book a refill. Your local Jaguar Retailer will also refill the tank as part of your scheduled maintenance. Please refer to your Owner's Handbook for more information.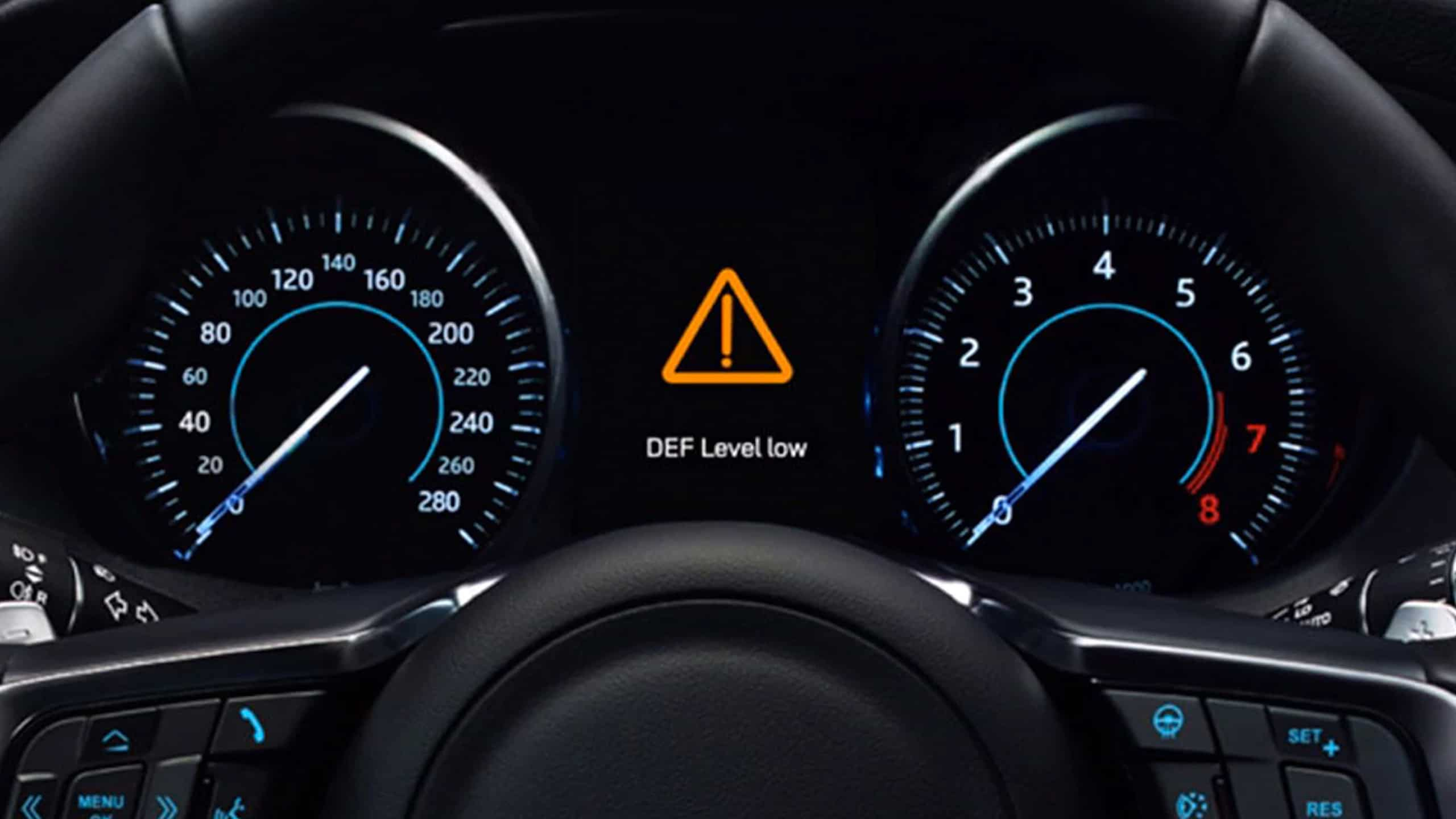 HOW WILL I KNOW IF MY DEF LEVELS ARE LOW?
The message center displays a series of messages when the DEF level becomes low.
 
1. The first message states that the DEF level is at a level where a refill is advised.
 
2. The second message is accompanied by an AMBER warning icon and states to refill the DEF tank.
 
3. The third message starts a countdown of the distance remaining until the DEF tank is empty, after which the vehicle will fail to start.
 
4. The final message is accompanied by a RED warning icon and is displayed when the distance remaining is zero and states that no further restarts will be possible until DEF is added to the tank.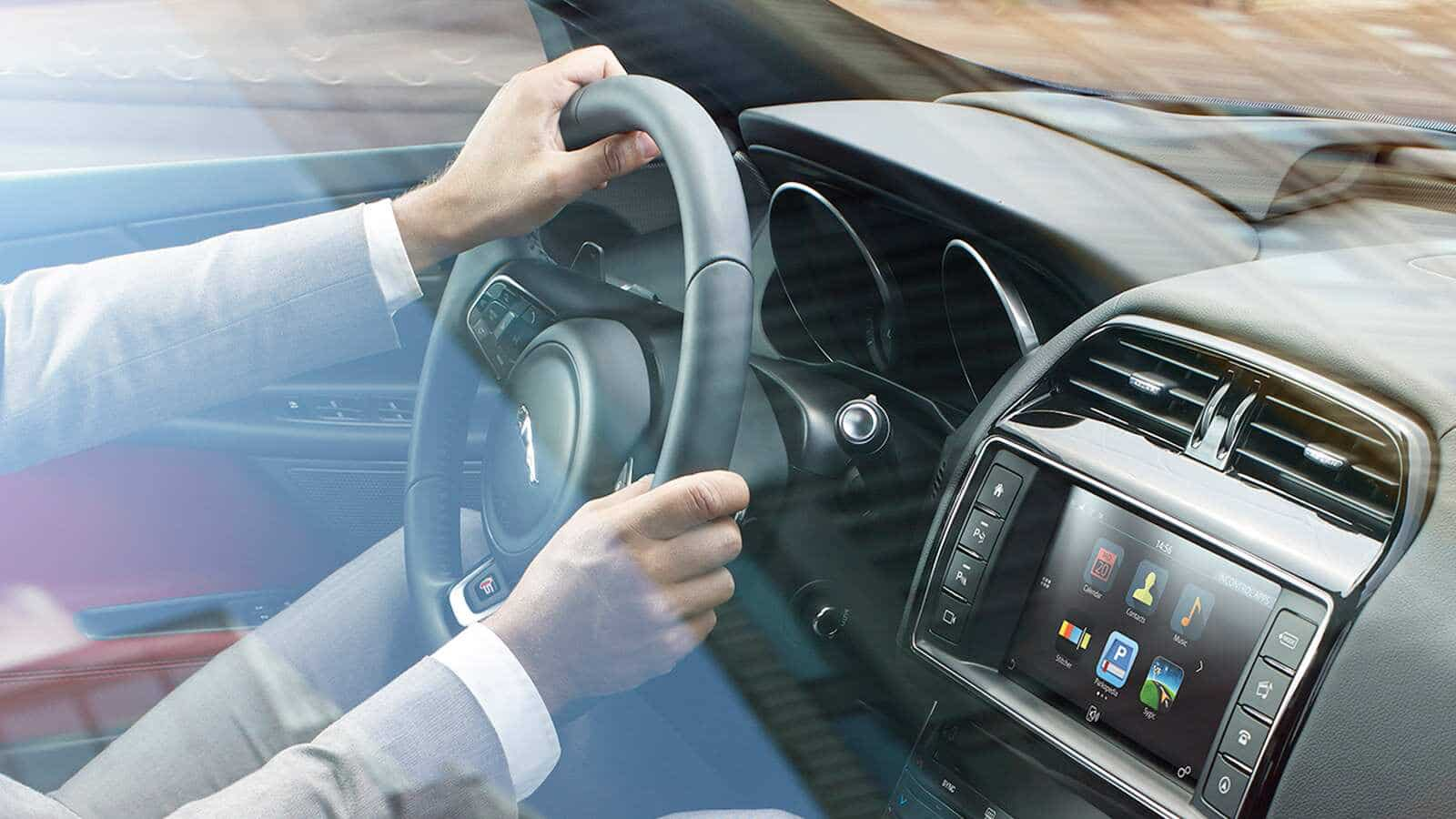 NOTE: When the DEF level becomes low, a notification message displays in the message center. Refill the DEF tank at the earliest opportunity. A Jaguar Retailer can be contacted to arrange a full DEF refill. If required, DEF can be refilled using non-drip refill bottles available from a Jaguar Retailer. An average consumption of DEF is 2,8L (6 pints) per 1000 miles. However, consumption can vary greatly depending on your driving style, the weather and road conditions.
FREQUENTLY ASKED QUESTIONS
How often should I refill DEF?
  

The consumption of DEF can vary greatly. An average consumption rate can be 2,8L (6 pints) per 1000 miles, but this consumption rate can be more than doubled, depending on the driving style, road and weather conditions.
How should I store DEF?
  

Always store DEF in its original container, and please observe the manufacturer's storage and handling recommendations shown on the bottle. DEF should never be stored in the vehicle.
What happens if I run out of DEF?
  

Should you run out of DEF, your Jaguar will not restart after you switch off the engine – this is a legal requirement.. The tank will need to be refilled with a minimum of 3.6L (or two standard-sized non-drip refill bottles, each containing 4 US pints) of DEF before the vehicle will start.
Can I refill the DEF tank myself?
  

Yes, you can purchase 4-pint non-drip bottles of DEF from your local Jaguar Retailer to refill the tank yourself. These bottles have been specifically designed for ease of use and to prevent any dripping. We do not recommend refilling the tank using any other type of container.
 

Do not pour any other liquids into the DEF tank or DEF that does not meet the standard ISO22241-1 or DIN 70070 as this will compromise the correct operation of your vehicle.
 

If you pour DEF into your fuel tank by mistake, DO NOT start the engine, and call your local Jaguar Retailer/Roadside Assistance immediately.
 

Commercial vehicle DEF pumps at fuel stations must never be used because the flow rate is too high and this will damage the vehicle's DEF tank.
 

Refer to your Owner's Handbook for instructions on how to refill your DEF tank
How do I check my DEF level?
   

The distance until your next DEF refill can be viewed at any time in the message centre on the dashboard*. 

 

Follow these simple steps: 

 

1. Switch on the ignition, but do not start the engine

(Check that a valid smart key is inside the vehicle and ensure that the brake pedal is not pressed. Hold down the engine START/STOP button until the instrument panel warning lamps illuminate) 

 

2. Press the OK button on the steering wheel control to access the Main Menu

(On some models, repeatedly press the OK button until Driver Assistance is displayed) 

 

3. Using the down arrow button on the steering wheel control, scroll down and highlight Vehicle Info 

 

4. Press the OK button to confirm selection 

 

5. Scroll down to highlight Diesel Exhaust Fluid 

(On some models this is displayed as Next Service) 

 

6. Press the OK button to confirm selection. The Diesel Exhaust Fluid range is then displayed. 
Is DEF hazardous?
   

Although DEF is non-hazardous, should it come into contact with any part of your body, or it is ingested by accident, please refer to the advice on the packaging and seek medical advice. If DEF comes into contact with your Jaguar vehicle's paintwork, simply wipe it off, and rinse the area with soapy water. However, DEF can stain upholstery and clothing – if spilt, DEF should be removed immediately using cold water and a damp cloth.
For more information on DEF please contact your local Jaguar Retailer or refer to your Owner's Handbook. AdBlue® is a registered trademark of the Verband der Automobilindustrie e. V. (VDA).
CAN'T FIND WHAT YOU'RE LOOKING FOR?